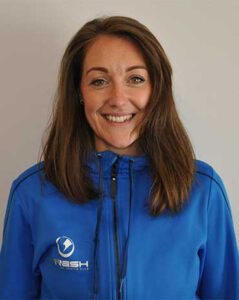 Personal Trainer Lindsay
Hello! My name is Lindsay and I am a Scot with an education in Sport and Exercise Science from Edinburgh.
In my 31 years I have spent most of my time in sports – starting from a very young age in Taekwon-Do, working up to European and world level, then becoming a spinning teacher in Amsterdam and now a fitness trainer at Fresh Fitness.
My main interest is to engage with/get to know/help people from all walks of life. Some want to build their strength, recover from injuries, feel good in their own skin and some want to learn more about maintaining a healthy, active lifestyle. I strive to help you in all those aspects!
I have learned that it is so important to move well before stacking the weights on. With a little help and guidance, you will definitely see an improvement in the way you move and have more trust in yourself physically and mentally before taking it to the next level.
My anatomical knowledge and focus on quality of movement will help you reach your goals in a safe yet fun way, with an extra push to show you that you are stronger than you think in many ways besides the physical.
Going beyond your comfort zone is where the growth starts!
I look forward to meeting you! Let's go!
Education
– Personal Training and Exercise Performance (MILO)
– BSc Sport & Exercise science
– Keiser Indoor Cycling Trainer
Experiencde
– Taekwon-Do Instructor
– Keiser Cycling Instructor
Wil je een afspraak bij Lindsay? Mail dan naar info@personaltrainerforhealth.nl