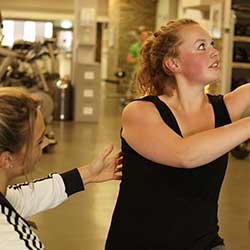 Testimonial Sanne Krijnen
After the first appointment I felt more confident, finally someone who knew how to get things done. Together we made a plan in which we set up goals that would be attainable for me. I felt taken seriously and heard. The training started and it was great! Nice and solid training, but adapted to my abilities and my level. I still look forward to the training sessions with Denise. Every time she knows how to make it challenging, fun and achievable. What I really like about Denise is that she really listens and is involved. When things are not going as well and the complaints are worse, she takes this into account and gives tips. I can always send her a message to discuss things and ask questions.
Denise knows how to slow me down when I want to go beyond my own limits but she also knows how to motivate me when necessary. She has the perfect balance to support and guide me.
My goals are being achieved and I feel better and better. After four months of training, I had dropped 11.8% in fat percentage and lost 10.3 kg of pure fat. I'm still a long way from where I want to be, but I'm well on my way. I could not have found a better personal trainer than Denise. Not only me, but also the people around me are very happy with Denise. They see me changing and getting stronger. Denise, thank you so much for what you have meant to me so far and for what you will mean to me in the future. You are a great person and my example!