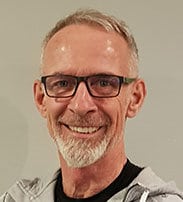 Life Coach and Personal Trainer
My name is Rob Segaar. After a career of more than 30 years in business, I know from experience that feeling good about yourself is all about taking good care of yourself, not only physically but also mentally. That is why, in addition to PERSONAL TRAINER, I have specialized as a LIFE COACH.
As a LIFE COACH I offer you an independent sounding board and a safe environment and I help you to improve your balance between work and private life, to remove feelings of stress and tension, to do something about your unrest, insecurity and doubts or to improve the relationship with others or with yourself. I help you to gain new insights as a basis for your choices. As a result, you will experience peace and become more confident in life.
As a LIFE COACH, I am trained at a high level and affiliated with the leading International Coach Federation (ICF).
As a LIFE COACH, I do not advise you and have no judgment as to where you are or where you want to go. The point is that you find out what you want, what is important to you, because only then can you really make your choices. I am your sounding board and your confidant.
In life, we often do not make choices but decisions. You often make a decision based on what is expected of you by your environment; you make a decision with your mind. But it is much better to make a choice, because a choice comes from within, from your feelings or actually even deeper, from who you really are. If you make a choice, it means that you choose for yourself and not for your environment.
But your choice is often deeply hidden. And to find out your choice, it is important to search within yourself. And with that I help you.
How? By listening closely to your words and asking about the deeper layers. But in a very "down to earth" way, not floating or vague, but in clear, concrete language. But your feelings also play an important role in this.
I enable you to look deeper into yourself and look for what is really important to you, your choices, your answers.
What do you need for it? Nothing more than the confidence in yourself that you carry your answers about your issues with you. Trusting yourself that you actually know, but you just can't get it.