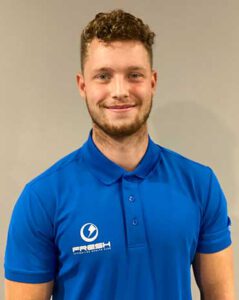 Personal Trainer Daniel
Since childhood, I have always had a passion for sports. It all started with football, but strength training soon followed. When I was 16, I registered for the first time at a gym and never looked back. Because of my passion for training, I soon knew that I wanted to make this my job.
After secondary school, I went to study at HBO Sportkunde, where I was trained as a lifestyle coach.
I also followed the minor 'Nutrition' within this programme. For me, the aspect of nutrition is just as important as the aspect of training. That is why I chose to follow a course at Precision Nutrition, where nutrition and coaching are central to my training.
I always strive to work in a result-oriented way during training, but fun is also very important. I like to work with you to find a way of training that suits the person so that we can achieve good results in the long term and so that you enjoy coming to your next training session!
Would you like an appointment with Daniel? Please email info@personaltrainerforhealth.nl